Biography
Patrick Van Belle is a multi-styled, solid, dependable drummer who can easily move from straight-ahead jazz to rock to funk to hip-hop and back again. He plays hard softly, enhancing but never overpowering, demonstrating that sometimes less is more. A true artist that plays for the moment, Patrick believes that "You always play for the song."
In 1976, a family musical outing took Patrick to the Latin Casino in Cherry Hill, New Jersey, and a seat before the legendary Buddy Rich. At the end of the show, Buddy approached the family's table and asked Patrick if he was a drummer. Patrick replied, "Not yet, but I'm going to be." Mr. Rich handed Patrick his drumsticks.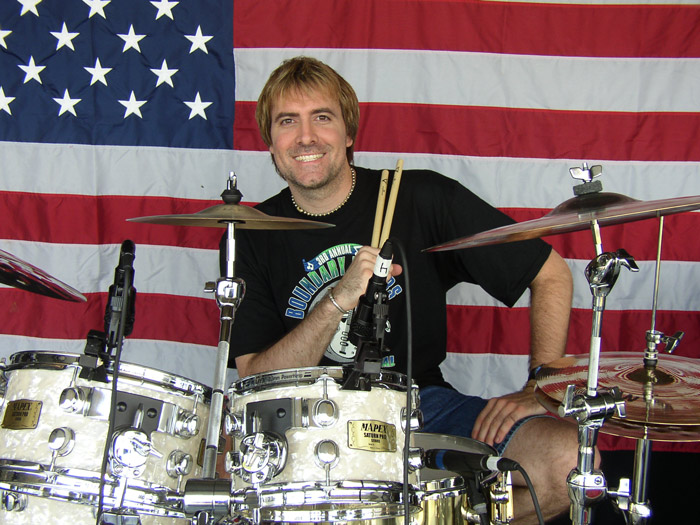 Patrick began playing drums at age eight. Influenced by his teachers, veteran Atlantic City drummer, Ray Deeley, with emphasis on technique and Temple University's then Percussion Head, Joe Nero, with emphasis on Jazz, Patrick started his pursuit of a musical career in High school. His determination to progress and excel at drumming earned him several awards as first chair drum set. He graduated from High School with a Music Excellence Award.
College brought him to West Chester University where he studied Music and Liberal Arts. It was during this time he started doing studio work and to date has recorded in virtually every major recording studio in the Philadelphia area.
Drumming isn't Patrick's only passion. His skill as a teacher is crowning. Patrick began teaching in 1987. He currently instructs over 40 students at his private studio. In addition, Patrick instructs clinics at local High schools and Music stores with support of his endorsements.
When not teaching, Patrick is engaged in many creative activities. He keeps a busy schedule as a freelance artist, session musician, and touring drummer. He has Performed, Recorded and Toured with many wonderful artists like Platinum selling artist Dean Davidson (Britny Fox, Love Saves the Day), Grammy Award winning producer John Rollo (Whitney Houston, Joe Cocker, Steely Dan, The Kinks) as well as Local Philly Blues Legend Georgie Bonds. Look for the PBS documentary "Georgie Bonds sings the Blues" featuring Patrick.
Patrick has shared the stage with many diverse artists from Kansas to Mavis Staples to Run DMC. From playing Big Band Music in school to playing Progressive Rock with The Age of Reason; playing Stonesy Pop/Blues/Rock with The Zendogs to Down Home Blues with Legendary Georgie Bonds; playing R&B/Acid Jazz/Drum&Bass with The Bastard Sons of Jazz and Eastside Vibe to playing covers with NY based Party band MOJO; playing Pop/Rock/Metal/Dance/electronic with the crazy multi faceted TP World BC to Contemporary Country with Jaron Dean; playing Mainstream Pop/Rock with Dean Davidson as well as countless demos for Artists in all different Music Genres.
"I have always loved teaching. Whether it was teaching my friends how to play Hot for Teacher on the Desks in High School or teaching a 5 year old, who was excited about seeing a live band, on a table in a club on a break. In my thirties I felt a very strong desire and responsibility to properly Educate/re-educate our future Drummers (of All ages). A strong foundation including Basic reading, rudiments, techniques and history of the instrument. Attention on Musicality, Dynamics and learning different styles including a focus on the student's musical taste. Also helping out the Intermediate/Advanced drummer who maybe has felt stagnant in their drumming for some time but not sure why (usually a Technique issue) and where to go from there."
"Drums and Drumming are cool....so lets Rock!....or Swing!.....but always Groove.
Currently, you can see him with The Modern Jazz Trio (Sax, Bass, Drums) featuring top local musicians. Also be on the look out for The Modern Jazz Trio II (Organ, Guitar, Drums). Be sure to catch him playing Live and stop and say Hi.